Family Holidays in South Tyrol
Children and family holidays in South Tyrol: In the summertime South Tyrol offers a lot for families with children: excursions, mountain bike tours, museums for kids or beautiful lakes. A stress-free holiday is guaranteed !
Interesting places to visit with your kids
Summer Toboggan Run in Innichen
Mining Museum with a train ride which is also fun for adults
Petting Zoo at the sport-zone in Riscone / Reischach
Baggalocke Gais – a little lake where your kids can have icrecream, swim in the little lake or play around the lake – You can find also a nice playground for kids next to the "Baggalocke"
Waterfalls next to Sand in Taufers / Campo Tures
The castel in Sand in Taufers / Campo Tures
Folk Museum in Dietenheim / Teodone> … and lots of other things !
Children's Playgrounds
Uttenheim: Next to the church
Gais: next to the lake "Baggalocke"
...and in all the other villages of the Tauferer Ahrntal Valley !
Of course there's also lots of great walks and excursions for young and young at heart in our area. We can suggest many walks to do with baby buggies in and around next to our town. If you want to have more information we would be happy to suggest you different places to visit with your family and your children !
Family Holidays in winter
In winter, as in all other seasons, South Tyrol offers endless possibilities for family vacations ! Winter, the magical season is a great adventure for kids: the landscape covered with White snow, high white mountains, frozen lakes, toboggan pists. Sport is one of the favorite activities in South Tyrol and on winter snow there are really many sports that you can do with your children: skiing, sledding, horse riding, ice-skating, walking on snow ....
Also South Tyrol's Skimountain No 1, the Kronplatz offers a kindergarten and ski-classes for Kids between 3 and 12 years, where they can have fun and make the first approach with the snow and skis.
The Croni Kinderland is for kids between 3 and 5 years. At the Croni Kinderland kids get a gentle introduction into the world of skiing. This course includes lunch. The Croni Midi Club is for children between 5 and 12 years which are already able to ski a little bit. Also this course includes the lunch.
The Skipass for children up to 8 years is free. ( born after the 26.11.1997 )
Our prices for children
Here are our price-reductions for children who sleep in their parents room:
until 2 years: - 70 % of our normal price
from 2 – 6 years: - 50% of our normal price
from 7 – 12 years: - 25 % of our normal price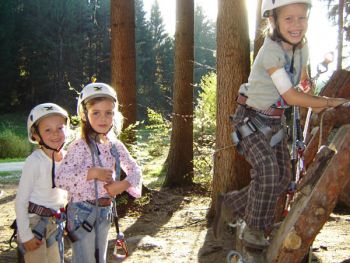 Click to view desired image...
Family holidays in South Tyrol - Our Top-tips: The Highlights for Kids !
Children's Program at the Schwarzbachalm
In the shadow of the mountain "Black Stone" you can find a playground for little climbers. In a playful way, children learn here about the use of various techniques of climbing and the use of rope and carabiners. Here your children can expect climbing, build a cable car over the riverand "fly" to the witches' broom from one to another boulder. Registration and information towards Mark Neumair: 347-221-9881
Scary hours at the castle in Campo Tures
The witching hour (1 * per week) is an amzing experience for kids between 6 - 12 years. At the castle they become mini ghosts and explore at their own the castle with a fairy.
Pony rides in Herbert's Riding-stable in Luttach
Which kid doesn't dream about having his own pony? In Herbert's riding stable, the small and big ones can try it out during the children's vacation if a pony is really the right pet for the family :-)