Tauferer Ahrntal in South Tyrol
Explore the Tauferer Ahrntal in eastern South Tyrol, between the Zillertal Alps and the Dolomites ! The Tauferer Ahrntal reaches from Brunico to Campo Tures and then goes into the "Ahrntal" - the hiking paradise Rieserferner-Ahrn that extends to the border of Austria.
The home of Hans Kammerlander is a valley for hiking,climbing and going walking. A place for traditional excursions to alpine pastures and exciting bike tours. Or simply a place to relax and unwind.
With around 14 peaks over 3,000 meters,the large number of castles, churches and chapels the Tauferer Ahrntal not for nothing is called the most beautiful valley in South Tyrol.
The culture-way in Gais, the castle in Campo Tures, the manger-museum in Luttach, the waterfalls in Bad Winkel or the mine in Prettau are just some of the attractions that invite you to linger and be amazed!
Hospitality, cheerfulness and humor are what always comes first. Experience with us pleasant hours with bacon and wine on our cultivated pastures or with music and dance on our traditional ceremonial driving down of cattle from the mountain pastures into the valley in autumn.
The Ahrntal covers about 45 km and offers a variety of adventures for everyone. The gigantic mountains and the unique nature panorama is ideal for hiking and mountain climbing. And where in the summer runs a walking trail, in the wintertime you'll find the toboggan pist.
The ski regions Speikboden and Klausberg in the summer transform to beautiful hiking and excursion territories!
Our hotel in the Tauferer Ahrntal Valley
At the entrance of the Ahrntal Valley in South Tyrol, more precisely, between the town of Brunico Campo Tures is situated our hotel next to the forest and is a guarantee for comfort and relaxation.
Our village Uttenheim is an ideal base for excursions and hikes in the Dolomites, the Zillertal Alps, to Braies Lake, to the Antholzer lake ...
Your vacation in Ahrntal Valley is certainly an unforgettable experience!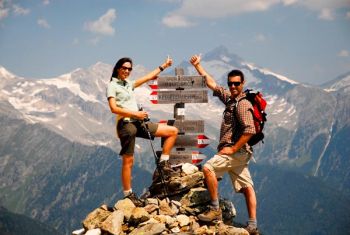 Click to view desired image...
45 km cycling route through the valley and numerous hiking and walking trails - suitable also for kids in buggies !

Speikboden: The ski and hiking area

Castle in Campo Tures In summer there are also night guides through the castle !

The art of lace in the nature park in Kasern: You can see & live the fascinating hand tradition of the bobbin work

Street kitchen in Campo Tures: feast and strolling in the summer in Campo Tures

Farmers' Market on Thursdays from 14:30 clock in the Atrium in Campo Tures

Prettau: Experience the Bobbin work tradition in the house in Prettau Prettau

High Rope course at the Schwarzbachalm in St. Johann / Luttach

Manger Museum Maranatha in Luttach

Mine with little train-railway through the mine and asthma tunnel in Prettau & much much more ...